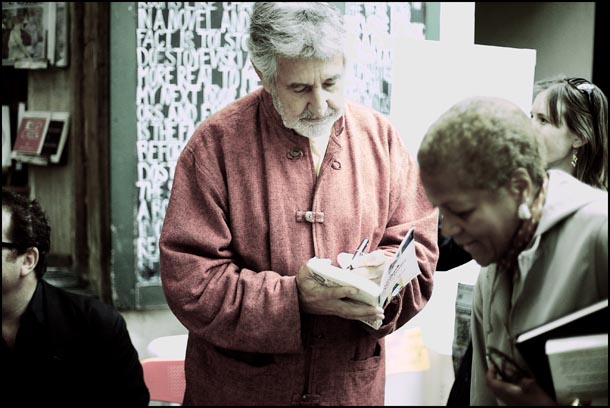 There are 7 images in this category.

Mark Gevisser is a South African journalist and writer. He is the author of the much acclaimed biography of Thabo Mbeki, A Legacy of Liberation: Thabo Mbeki and the Future of the South African Dream (Palgrave Macmillan), for which he won the 2008 Alan Paton Award. It has been described by the Times Literary Supplement as 'probably the finest piece of non-fiction to come out of South Africa since the end of apartheid' and by the BBC's Fergal Keane as 'the indispensable and definitive account of post-apartheid South Africa'. He is also the author of Defiant Desire, Gay and Lesbian Lives in South Africa and Portraits of Power: Profiles in a Changing South Africa. Mark is currently writer-in-residence at the University of Pretoria, where he teaches in the journalism programme, and is working on a new book, to be published by Atlantic (UK) and Farrar, Straus and Giroux (USA). He lives in France and South Africa with his partner. www.markgevisser.com
Breyten Breytenbach is a South African writer, painter and activist. He left South Africa in 1960 as a result of his horror at apartheid and settled in Paris in 1962. Breytenbach's first literary works were poems, many expressing his political views, and he is recognised as one of the finest living poets of the Afrikaans language. On a clandestine return to his homeland in 1975, Breytenbach was arrested under the Terrorism Act and jailed for seven years. Out of this experience came the semi-fictional Mouroir: Mirrornotes of a Novel and The True Confessions of an Albino Terrorist, widely regarded as a political and artistic masterpiece. Breytenbach now lives in Paris and New York.
Petina Gappah is a Zimbabwean writer and an electric new voice in fiction. Her first book, the short story collection An Elegy for Easterly, was awarded The Guardian First Book Award and has recently been shortlisted for the highly prestigious Orwell Prize. It will be published in more than ten languages. In her stories, Gappah looks beyond the headlines to convey the warmth and humanity that characterise the lives of Zimbabweans, and sees her challenge as being to 'write about what it is to be a human being living in a particular space'. Petina Gappah has law degrees from Cambridge, Graz University and the University of Zimbabwe. She lives in Geneva with her son and is currently completing her first novel, The Book of Memory. www.petinagappah.com
Njabulo Ndebele is a renowned South African academic, novelist and social commentator. He is the author of the novel The Cry of Winnie Mandela, and a book of short stories, Fools and Other Stories, which won the Noma Award for best book published in Africa in 1984. He has also published an influential collection of writing on South African literature and culture, Rediscovery of the Ordinary and, more recently, Fine Lines from the Box, a collection of journalistic essays exploring the vulnerabilities and confusions that dog our understanding of South Africa past and present. Njabulo Ndebele was Vice-Chancellor of the University of Cape Town from 2000 to 2008 and served as President of the South African Congress of Writers for many years. He lives in Cape Town.